6 – Brian Griffin (Family Guy): TV Fictional Narcissists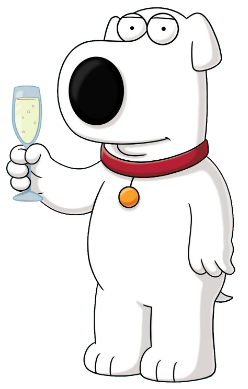 Love it or hate it.
Family Guy is here to stay from what it seems like.
The earlier seasons of family guy, Season's 1 -7, with Season 3 or 4 being perhaps the best seasons, were smart, funny, and witty.
Brian, during these seasons, was the voice of reason. However, after the show's second cancellation and revival, Brian would later become a DOUCHE.
No longer the voice of reason, or the smart writer, Brian would now become a lowlife.
Banging a navy seal's girl behind his back.
Flirting with Meg's HIGH SCHOOL girlfriend.
Forcing himself on Lois.
And speaking of Lois and the family in general, they could all be considered narcissistic.
The way they treat Meg is disgusting.
But Brian hits the narcissistic goal for several reasons:
His addiction to Alcholol
Brian's taste in female
His smug attitude about driving a Prius
His attempt to APPEAR SMART
Attempting to sabotage Stewie's writing success
Abandoning his son
As Glen Quagmire once said, "he is just the worst."